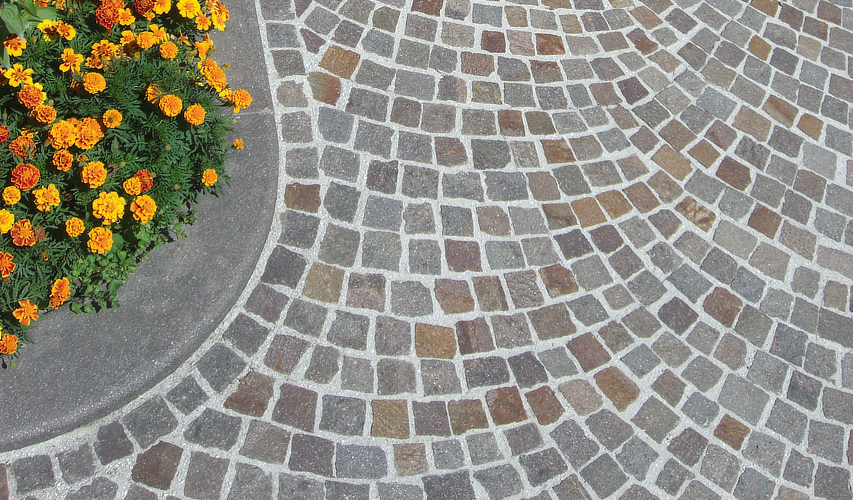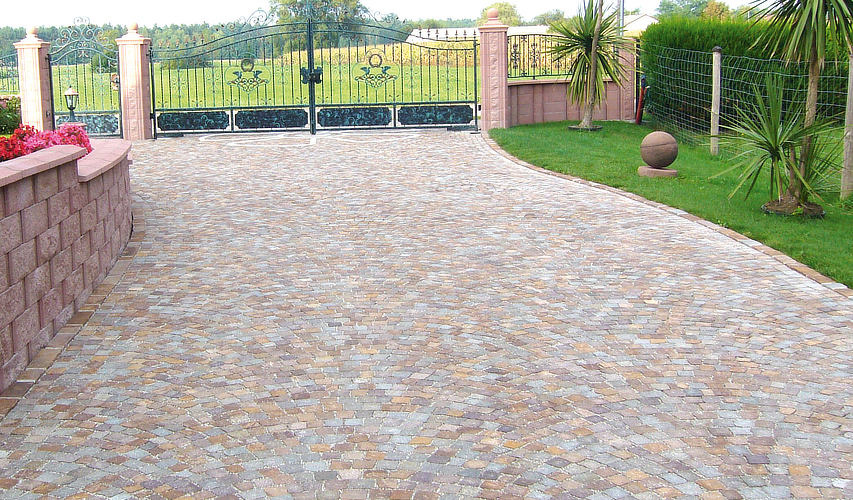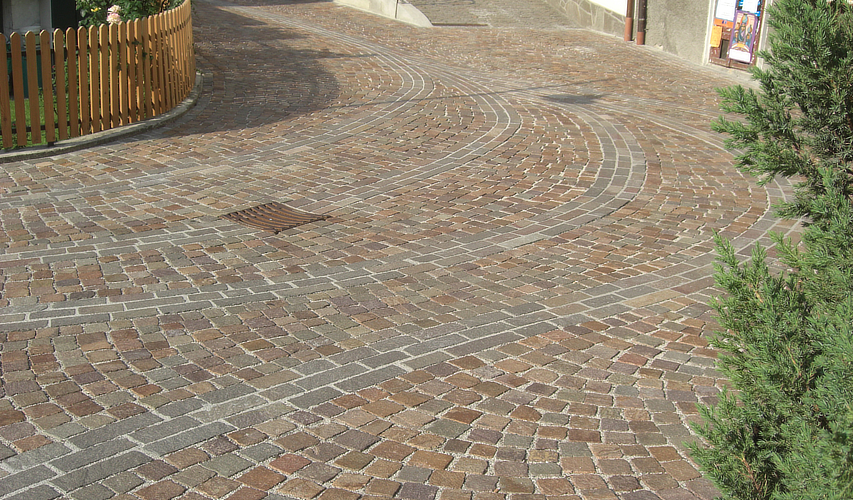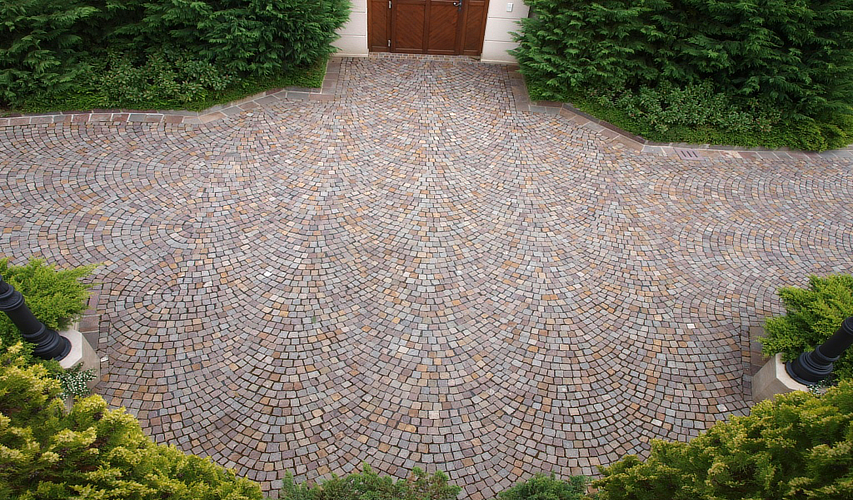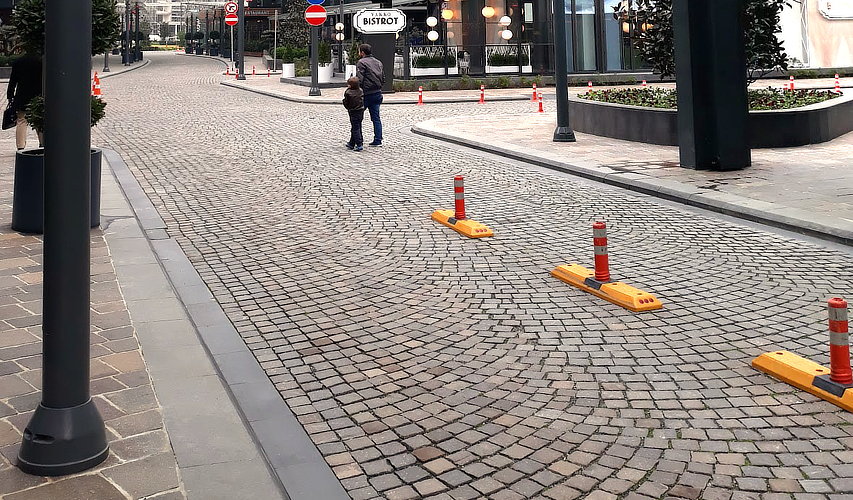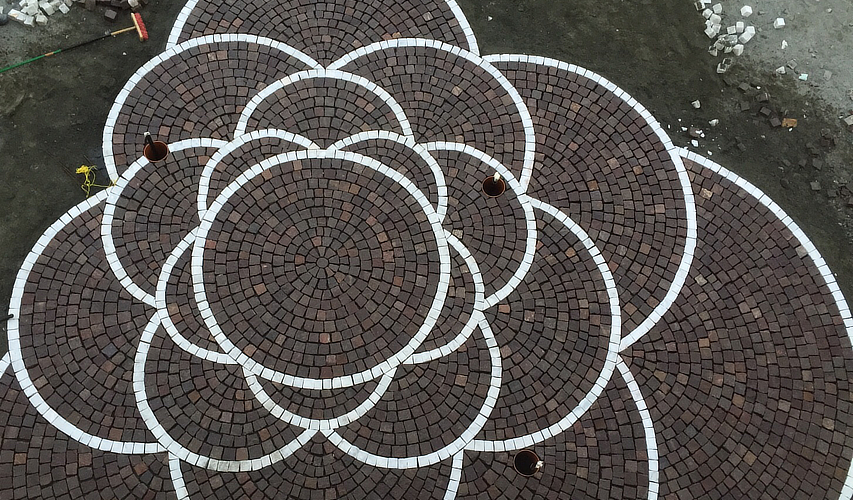 PORPHYRY CUBES WITH NATURAL SURFACE
TRADITIONAL
Traditional Porphyry cubes have two natural surfaces, top and bottom, and split sides. Size of head is variable, to be suitable for laying in overlapping arches, peacock tails or circles. As all the products with natural surface, thickness is variable, and colour is mix.
Each cube is handmade on by one. Today, as in the past, although the aid of modern machines involved in their production, the result is greatly influenced by the skill of the workers, that split and select the cubes on the basis of the thickness of the raw slabs.
Porphyry cubes are supplied loose or in crates. Colour is mix, or can be selected in mix red or mix grey.
View Colours of porphyry with Natural Surface
THE STANDARD SIZES
| | | | | | | | | | | |
| --- | --- | --- | --- | --- | --- | --- | --- | --- | --- | --- |
| Head cm | 5/8 | 4/6 | 6/8 | 6/8 | 8/10 | 8/10 | 8/10 | 10/12 | 12/14 | 14/18 |
| Thickness cm | 1/3 | 3/6 | 3/5 | 6/8 | 4/6 | 6/8 | 8/10 | 10/12 | 12/14 | 14/18 |
| Weight Kg/m 2 | 50 Kg | 100 Kg | 95 Kg | 135 Kg | 110 Kg | 140 Kg | 185 Kg | 235 Kg | 280 Kg | 340 Kg |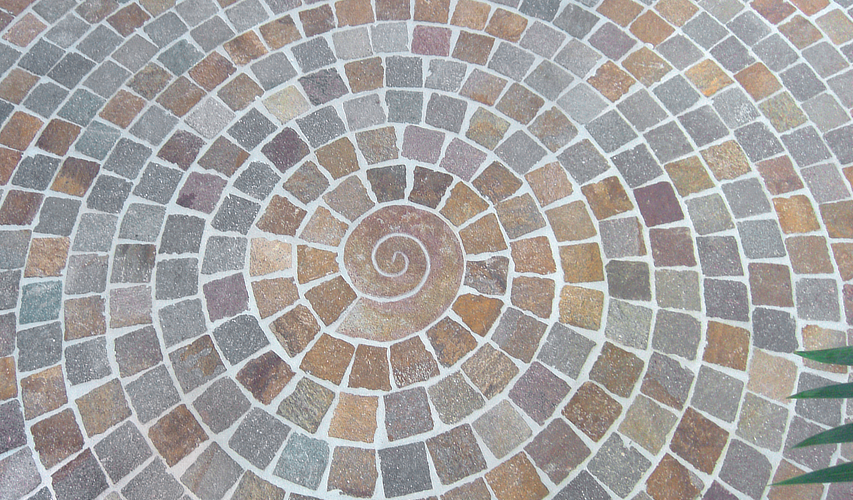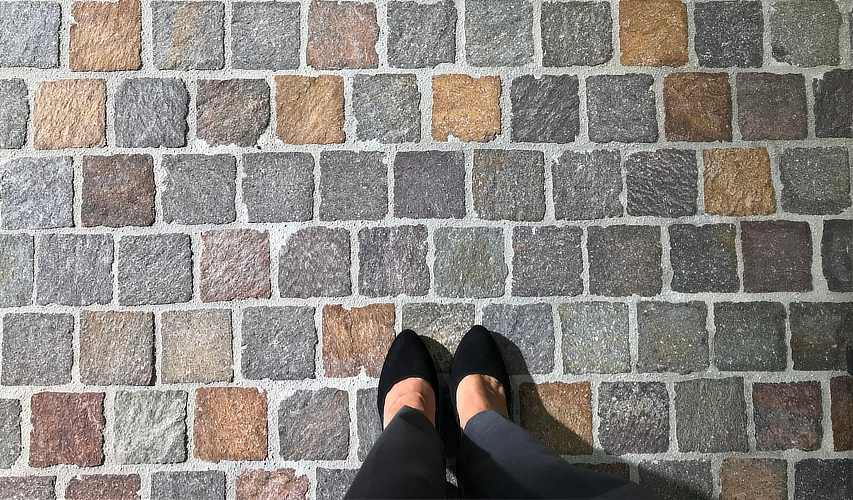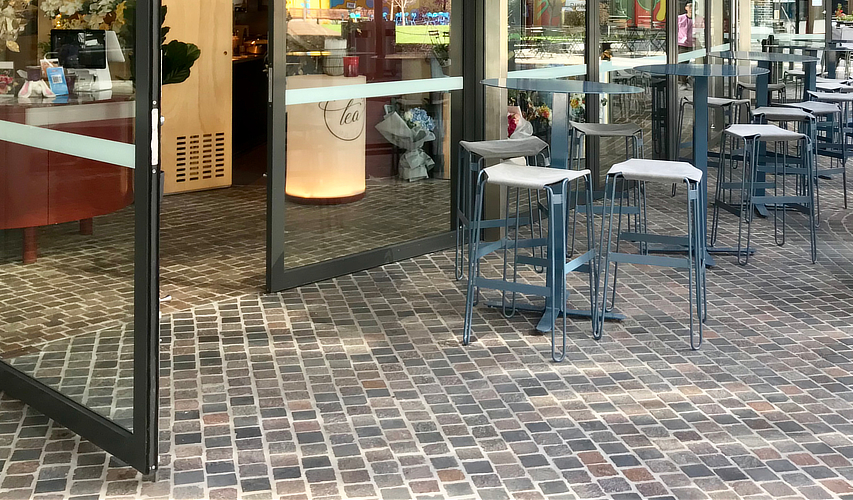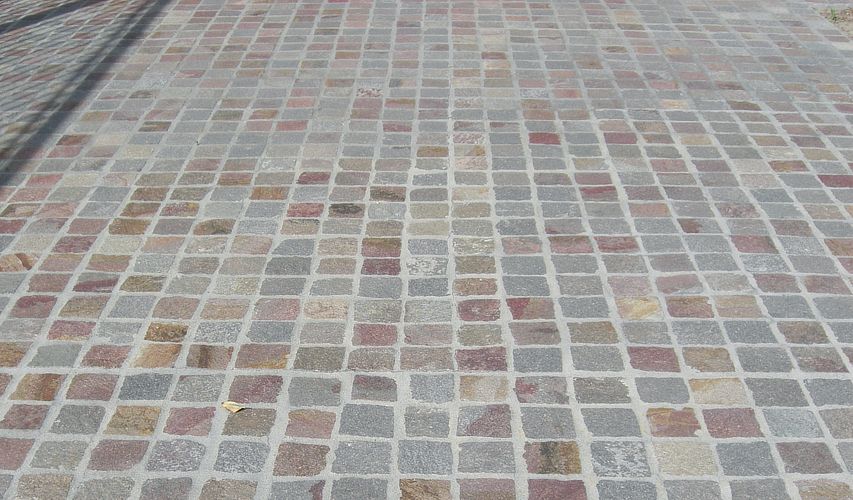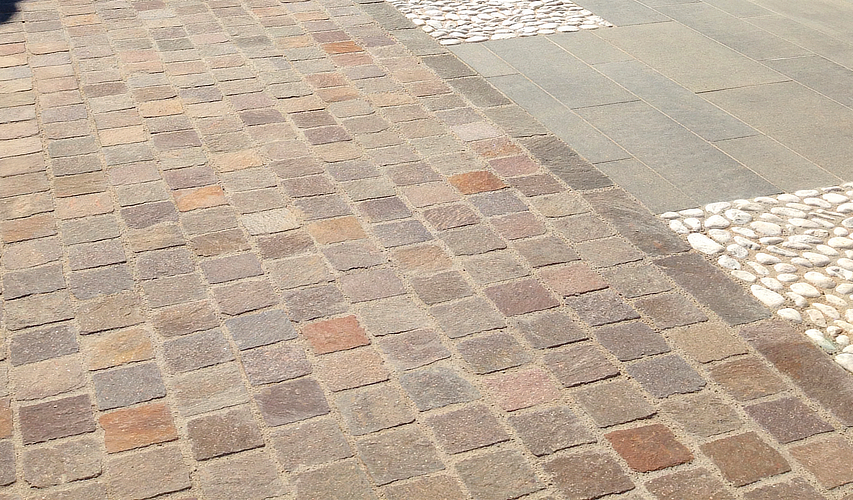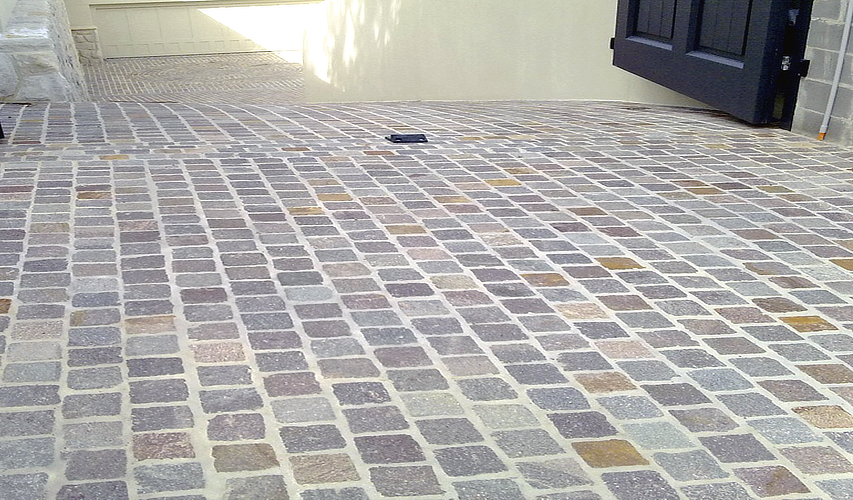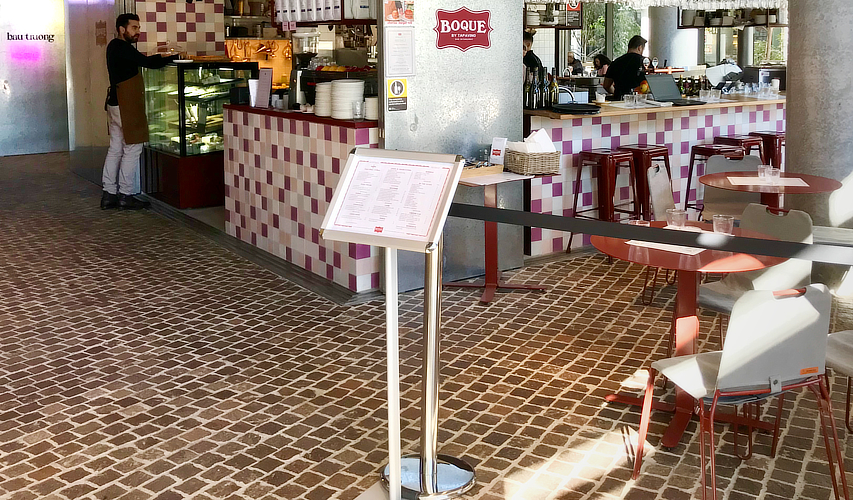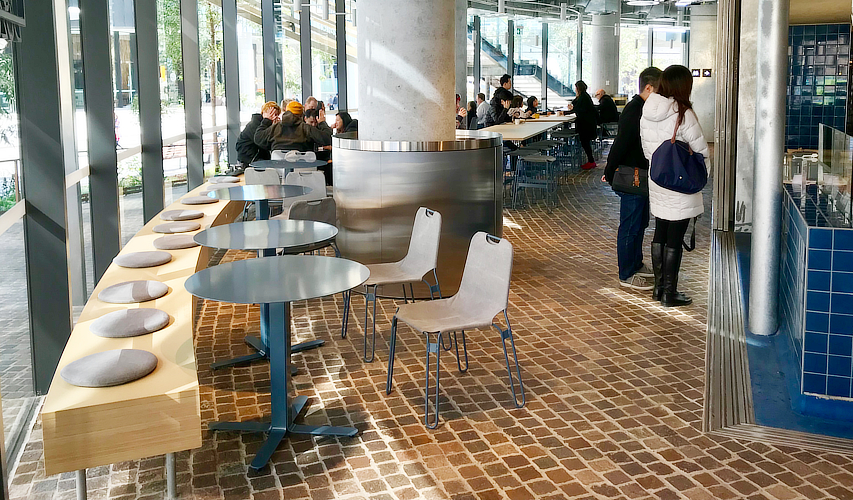 PORPHYRY CUBES WITH NATURAL SURFACE
WITH FIX HEAD
Porphyry cubes with fix head have natural surfaces and split sides, as the traditional cubes, but head has a fixed size. They are suitable to be laid in rows, orthogonal rows or circles. Cubes with fix head are an easy and efficient way to create a beautiful and traditional looking surface, easy to install and used also for do-it-yourself works. Cubes with fix head are supplied loose or in crates. Colour is mix, or mix red or mix grey.
A modern variation of this typology are the cubes with sawn sides, that allow to have minimum joints.
View Colours of Porphyry with Natural Surface.
THE STANDARD SIZES
| | | | | |
| --- | --- | --- | --- | --- |
| Head cm | 10x10 | 10x10 | 10x10 | 10x10 |
| Thickness cm | 2/4 | 3/6 | 6/8 | 8/10 |
| Weight Kg/m 2 | 60Kg | 100Kg | 135Kg | 185Kg |
| Pcs. per m 2 | 81 | 81 | 81 | 81 |
---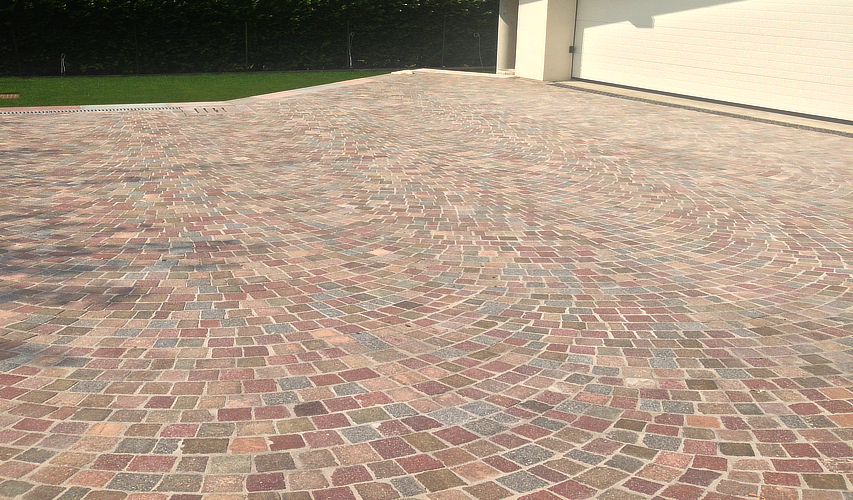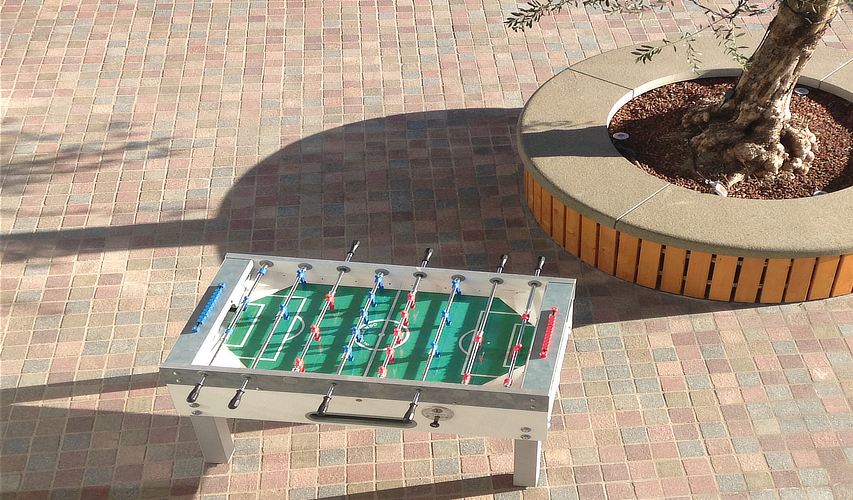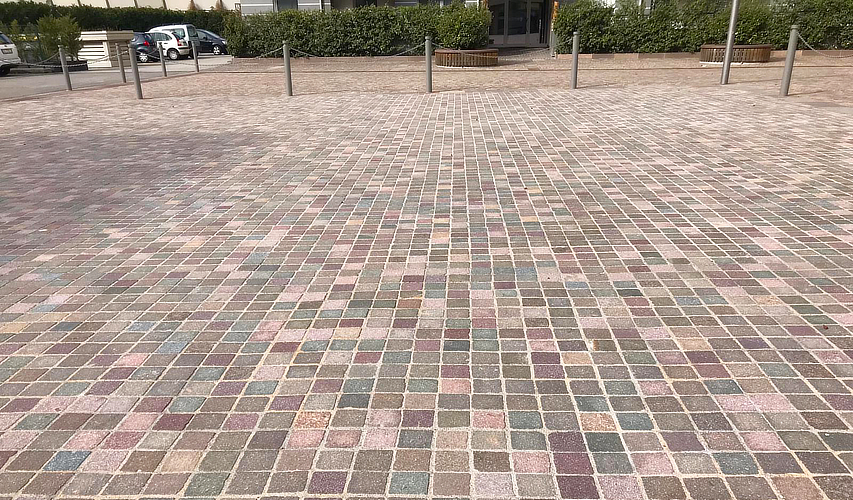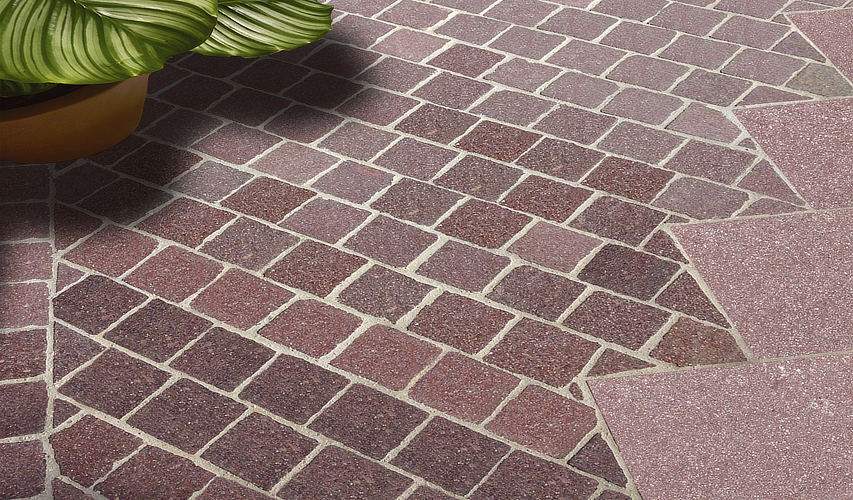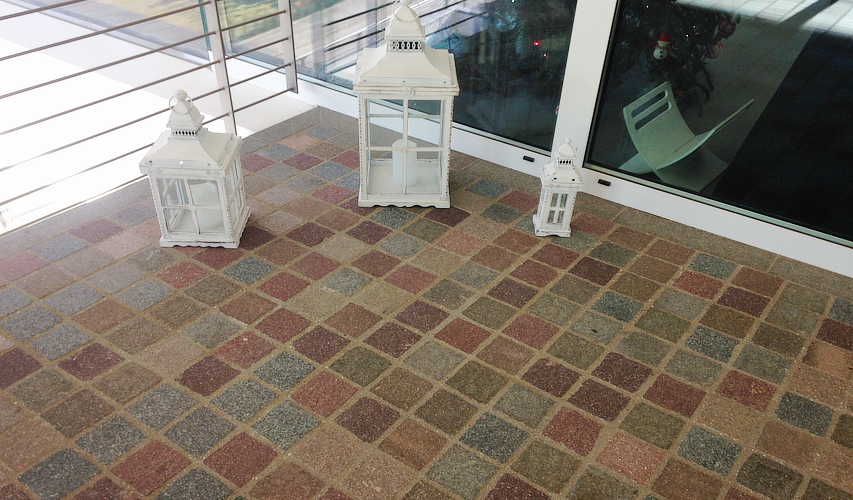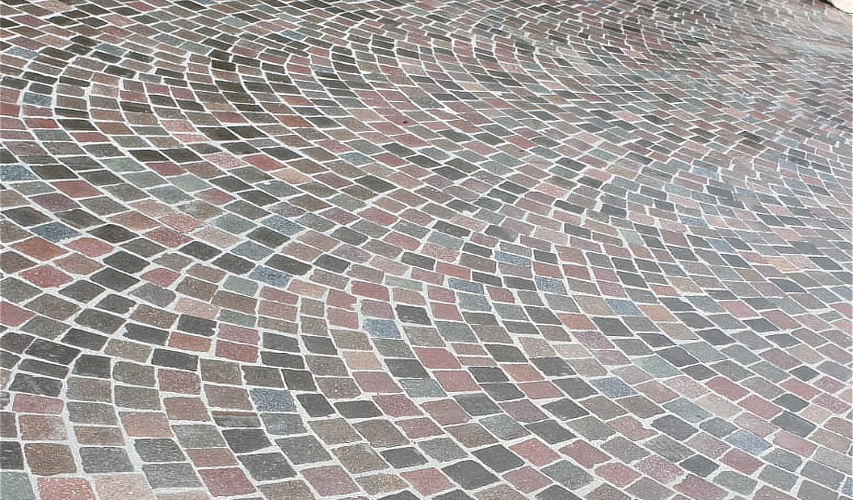 PORPHYRY CUBES WITH
FLAMED SURFACE
Porphyry flamed cubes have split sides, one flamed surface, constant and low thickness. Used for project where very low installation heights and low weights per unit area are required, such as terraces, patios, sidewalks and interiors. Thanks to the regularity of the thickness, are easy and fast to lay.
Flamed surface is produced heating up porphyry, in this way quartz pop, brightening in a natural way the colour of Porphyry and forming a rough anti-slip surface. Porphyry with flamed surface is suitable for outdoor floors, in areas with pedestrian and vehicle traffic.
Cubes with flamed surface are available also with sawn sides, to have a laying with minimum joints.
Porphyry flamed cubes are available multicolor or in selected and uniform colors.
View Colours of Porphyry with Flamed Surface.
THE STANDARD SIZES
| | | | | |
| --- | --- | --- | --- | --- |
| Head cm | 6/8 | 6/8 | 10x10 | 10x10 |
| Thickness cm | 3 | 4/6 | 3 | 4 |
| Weight Kg/m 2 | 70Kg | 95Kg | 70Kg | 80Kg |
^